Powers of Attorney and Long Term Planning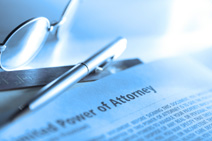 Last month, I was retained by a lovely woman, named Diana, who needed assistance with her 93 year old brother, Robert, who had had a stroke, and was in a hospital awaiting long term care placement. Robert's short-term memory had been significantly compromised by the stroke, and it was clear that he could no longer live in the community. At least it was clear to everyone, but Robert.
So, now Diana has a big problem because she has no authority to place Robert in a long term care facility, and no authority to access his assets to pay his bills. As a result, she had to retain my office to commence a guardianship proceeding in Supreme Court in order to act on Robert's behalf with respect to his personal needs and finances. Such a proceeding costs between $10,000.00 to $20,000.00 in New York, and could have been avoided easily if Robert had executed a health care proxy and power of attorney anytime prior to his stroke. (See our website for more information on health care proxies.)
Such documents cost a mere fraction of the legal fees to commence a guardianship. Attorneys charge anywhere from $100.00 to $250.00 for the preparation of each document, depending on a host of factors. Sometimes, they charge nothing extra if a power of attorney is included in an overall estate plan that encompasses a will or trust. Personally, if I prepare an entire estate plan, I include a power of attorney for no extra charge. And not having a power of attorney is a very costly error if what happened to Diana happens to your family.
---
Powers of Attorney
All estate plans should include a durable power of attorney whereby an individual, or principal, directs another person, his agent, to act in his stead with respect to a list of property management, or financial, powers. The principal may direct that the appointment survives his or her incompetence, or may direct that the power springs from his or her incompetence. In New York State, there have been some changes in the form of a power of attorney and those changes shall take effect on September 1, 2009. Check with your attorney for any technical questions with respect to the changes in form content and execution.
I discourage people from preparing and executing their own documents; all you need is one small mistake, and your efforts will attain you absolutely nothing. Each year, I have several clients calling to correct a mistake such as that; frequently, there is nothing that can be done, and the client must live with a costly, but well-meaning mistake.
---
Medicaid Planning and Powers of Attorney
Now let's change our scenario a bit and say that just prior to his stroke, Robert and Diana had been living together in a Brooklyn brownstone that they owned as joint owners, with rights of survivorship, for five years. Let's also assume that Robert is Medicaid eligible, and that the doctors determine that he can no longer return to his home, that he requires long term care in a nursing home for the duration of his life. The new power of attorney laws provide that, after the effective date, if a principal wishes to grant major gifting powers to his agent, here to the extent of protecting a jointly held house from the reach of a Medicaid lien, he may.
"Primary residence planning is crucial today, more than ever. Medicaid is placing liens on homes, cooperative apartments and condominium units more than ever before. Put simply, Medicaid needs the money."
A principal may sign what is referred to as a major gifts rider to his power of attorney in order to accomplish that goal. Certainly, this alternative to guardianship is far simpler and much cheaper than Diana petitioning the court to be appointed guardian and then, many months later, and if the judge permits it, the court granting that request.

Primary residence planning is crucial today, more than ever. Medicaid is placing liens on homes, cooperative apartments and condominium units more than ever before. Put simply, Medicaid needs the money. In this economy, everyone does, so it is important to have planning documents prepared and, if documents were prepared years ago, to have them reviewed by counsel. Powers of attorney properly signed and notarized prior to September 1, 2009 shall remain effective, but any changes thereafter shall have to be in conformance with the new rules.
### END OF NEWSLETTER ###